MT1890 Barcode Scanner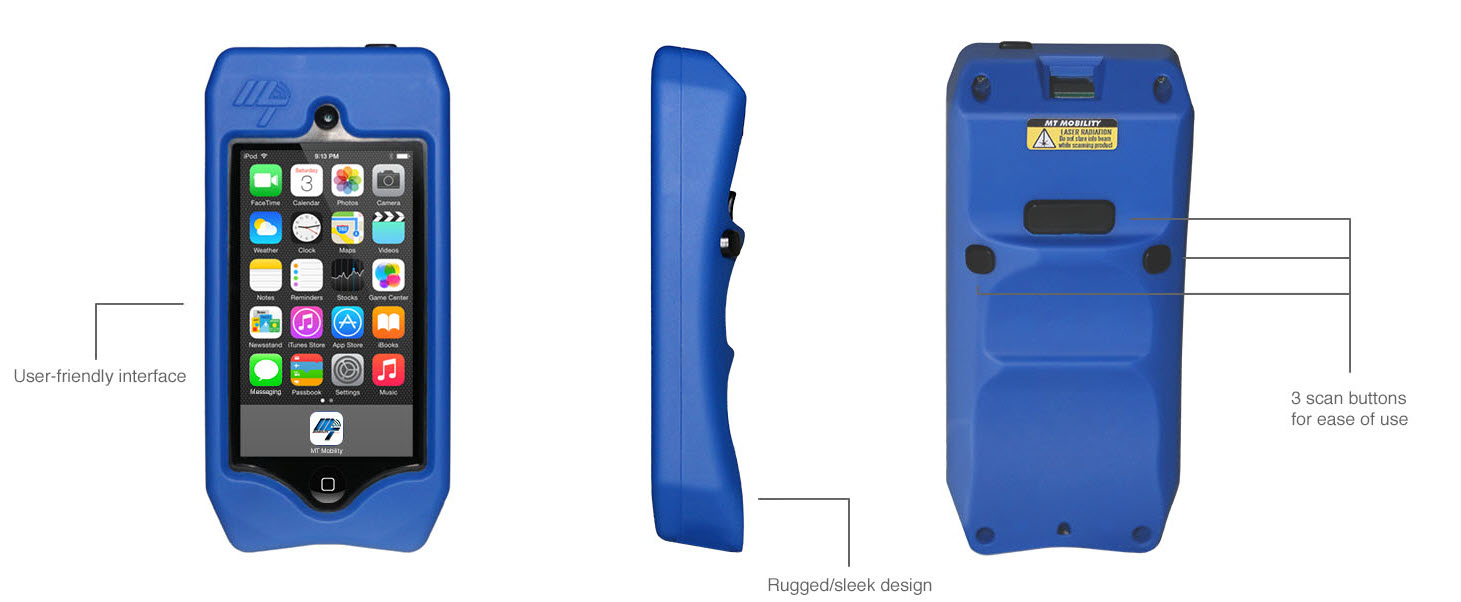 Designed specifically to withstand normal operating conditions within an industrial environment, this high quality 1D barcode scanner has the ability to withstand drops up to at least 15 feet on to solid concrete. Barcode scanning data capture is fast, including when scanning old or damaged barcodes. The touch screen user interface of the Apple iPod Touch 5th or 6th Generation provide quick training and ease of use to product operators. Starting at one-third the price of traditional gun style barcode scanners, this barcode scanner is the perfect fit for your workforce and your company's ROI. The product is made in the United States of America with global components.
---
Mobile WMS Software
Mobile WMS software from MT Mobility is an optimized, mobile solution providing a company's shop floor with real-time access to their Microsoft Dynamics AX or NAV ERP system. Designed using a web page service application, the software provides users with intuitive information, mobile updates, efficient barcode scanning data capture, key data entry capture and a simple user interface to run AX or NAV business logic services. With a simple installation process, limited user training, the capability of running on any mobile device with a web browser and greater work efficiency from employees, the mobile WMS software by MT Mobility provides a high ROI.
About
Headquartered in Marshalltown, IA MT Mobility is a division of Marshalltown Company. Marshalltown Company is a worldwide leading manufacturing and distribution company for the construction tool industry. The MT Mobility division of Marshalltown Company offers hardware and software products for the warehousing, distribution and retail industry. For more specific information on products offered by MT Mobility, please visit the "Hardware products" and "Software products" page within this website.
We developed our products for our own use first. In 2012, Marshalltown Company successfully designed and implemented their own mobile ERP software solution, a native iOS application platform. Marshalltown Company ran the solution in their operations until early 2015, when a second software solution using an HTML5 web page application platform. The HTML5 web page application platform is still in use today at Marshalltown Company. MT Mobility was established in 2013 as a division within Marshalltown Company to market the native iOS application software platform solution. MT Mobility began marketing the HTML5 web page application in 2015. In 2014, Marshalltown Company decided to design, assemble and use their own 1D barcode scanner. The MT1890 Barcode Scanner was established and first used at Marshalltown Company in the first quarter of 2015. MT Mobility began marketing the MT1890 Barcode Scanner, along with several accessory products in 2015. The MT1890 Barcode Scanner established a hardware product line for MT Mobility to go along with the previously established software product line.