News Archive
Marshalltown Company to air national TV commercial for this weekend's NASCAR race
MARSHALLOWN, Iowa -- MARSHALLTOWN will launch a national television commercial this weekend that will appear throughout the Hollywood Casino 400 race in Kansas City, KS as part of a marketing promotion with Lowe's Companies. In addition, Team Lowe's Racing will feature the MARSHALLTOWN logo on its car, driven by Jimmie Johnson. The commercial will appear during qualifying on Saturday, and on Sunday, throughout the race on NBCSN. Coverage of the race begins at 1:30 p.m As Lowe's continues to expand its reach to attract professional contractors, the home improvement store has added the MARSHALLTOWN brand of drywall, concrete and tiling hand tools and equipment to its lineup. The commercial is now available on the home page of www.marshalltown.com and there will be updates throughout the weekend on the MARSHALLTOWN social media channels.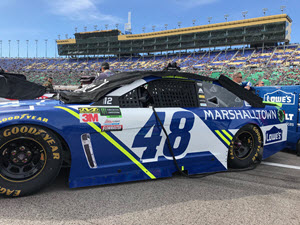 ---
Rare Chance to Ride in a Solar Car – in Marshalltown -- June 24th
Saturday, June 24th from 9:00 a.m. to 1:00 p.m. the Iowa State Solar Car will be at the Marshalltown Courthouse and visitors will not only have a unique opportunity to see the car up close, but also have an opportunity to take a ride.
Iowa State University (ISU) students have been designing, building and racing solar cars since 1989, but this year is very different. Under the name Team PrISUm, ISU's solar cars have won numerous races in the United States and the team is considered to be one of the best in the nation. Yet something has been missing.
Every other car has had room for a driver, but nothing else. Two years ago the ISU students decided they wanted to change the future of transportation by designing and building a solar car that can hold 4 people, plus luggage – a solar car that could be operated on the road. These young students, right here in Iowa, are doing what no other U.S. university is doing. Now you will have the rare opportunity to see it and ride in it!
The morning festivities will start at 9:00 a.m. with a police escort for Cy, ISU's mascot, and the ISU Solar Car driving on Main Street from 3rd Street to the Courthouse Square. Live music will start at 9:30 a.m., with numerous food trucks and vendors to keep visitors fed as well as even more vendors with arts and craft to make the morning even more fun and festive. There will also be a large car show on Main Street – a great way to compare the past with the future. There will also be a free STEM project – a chance for young people to build and take home their very own mini solar car.
Team PrISUm will make a formal presentation at 10:30 a.m., but the students will be around to answer questions throughout the entire four hours of the event. Come enjoy this free event for the community.
9:00 a.m.
Police escort of solar car down Main Street
Car Show on Main Street
Food Trucks and Vendors on the Square
Arts and Crafts Vendors on the Square
STEM project – build a mini solar car for free
Chance to see solar car and take a ride
9:30 a.m.
10:30 a.m.
Presentation from Team PrISUm
1:00 p.m.
MARSHALLTOWN Introduces the PermaFlexTM Flexible Finishing Trowel
Marshalltown, Iowa – MARSHALLTOWN announces the release of its PermaFlexTM flexible finishing trowel, featuring a flexible stainless steel blade to make it easier to apply finish coats of plaster, drywall compound and Exterior Insulation Finish System (EIFS). The PermaFlex™ is also great for applying fine, cement-based micro-toppings.
Like all MARSHALLTOWN finishing trowels, the PermaFlex™ uses the same, famous Xtralite® mounting, resulting in a trowel that is 10% lighter than most competitor brands.
The PermaFlex™ incorporates a thin, premium stainless steel blade bonded to a stiffer backing blade. Complete with its rounded corners, the blade flexes perfectly to leave fewer lines when applying finish coats.
Now available, the PermaFlex™ finishing trowel is available in 11, 12, 13, 14, 16 and 18" lengths, all 4 5/16" wide, with your choice of wood or DuraSoft® handle.
For further information, please contact your nearest MARSHALLTOWN dealer, visit MARSHALLTOWN.com or contact:
MARSHALLTOWN
104 South 8th Avenue
Marshalltown, IA 50158
800-888-0127 ∙ 641-753-5999
MARSHALLTOWN INTRODUCES LEATHER HANDLE BRICK TROWEL
Marshalltown, Iowa – MARSHALLTOWN announces the introduction of the new Leather Handle Brick Trowel. The new Leather Handle Brick Trowels continue the company's legacy of producing quality tools for the masonry industry.
Now available, this new brick trowel features a comfortable leather handle, which is unique to the industry. The natural burnished finish provides the authentic, comfortable feel Masons have been asking for in a leather handle.
The Leather Handle Brick Trowel features the iconic MARSHALLTOWN blade that Masons have grown to know and trust. The new trowels also feature the fingerguard and bumper, made popular by the MARSHALLTOWN DuraSoft® Brick Trowels; making it unlike any leather handle trowel found on the market.
"Masons know their trowel is an extension of themselves and as a leader in the industry since 1890, MARSHALLTOWN continues its legacy of producing quality tools for professionals with the introduction of the new Leather Handle Brick Trowel. This trowel handle is another historic milestone for MARSHALLTOWN," says Product Manager Corey Wall.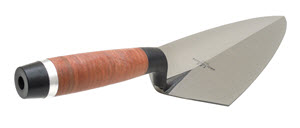 For further information, please contact your nearest MARSHALLTOWN dealer, visit MARSHALLTOWN.com or contact:
MARSHALLTOWN
104 South 8th Avenue
Marshalltown, IA 50158
800-888-0127 ∙ 641-753-5999
MARSHALLTOWN INTRODUCES THE NEW DuoTex™ TEXTURE SPRAYER
MARSHALLTOWN, Iowa, -- MARSHALLTOWN, one of the world's leading construction tool and equipment manufacturers, is proud to announce the release of the newest piece of drywall equipment:
The DuoTex™ Texture Sprayer is the perfect piece of equipment for finishing interior and exterior applications, including EIFS. Features of the DuoTex™ include:
A powerful compressor that operates off a 2HP, 115V, 11.5A electric motor, with 5.75 CFM @ 40 PSI and 3 CFM @ 90 PSI
Ample material delivery with a fully adjustable 2.6 GPM peristaltic pump, a 1" diameter hose material hose and a 1 3/8" air hose (100ft. max length)
A comfortable cast aluminum gun, featuring a two-finger trigger pull design, coupled with 6 different nozzle sizes, which come in a handy storage bag, ensures that you get the perfect finish for any job with more control and less fatigue
A large 16 gallon capacity hopper with a bucket rest for hands-free material transfer, a sealable tethered lid, to keep material fresh between jobs and contaminants out of the hopper when in use
10" flat free tires with easy-roll bearings while the front swivel caster makes for easier transportation, offer increased tire life, less downtime and fewer maintenance costs.
The DuoTex™ texture sprayer also gives you the ability to use the unit as a stand-alone compressor to power pneumatic tools like nailers, staplers, and even hopper guns
DuoTex™ Part Number: MTS200 EDI: 18962

The DuoTex™ is available for immediate purchase. For further information, please contact your nearest MARSHALLTOWN dealer, visit MARSHALLTOWN.com or contact:
MARSHALLTOWN
104 South 8th Avenue
Marshalltown, IA 50158
800-888-0127 ∙ 641-753-5999