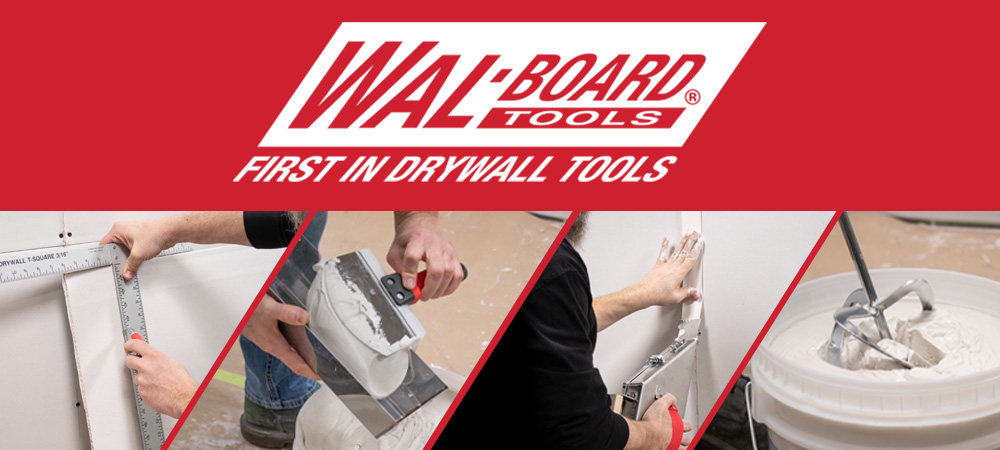 MARSHALLTOWN has acquired WAL-BOARD TOOLS, a market leader in drywall tools for more than 75 years. WAL-BOARD TOOLS was born in 1946 when Mel Masterson – a contractor – and his team conceived, designed, and patented 7 items specific to drywall finishing. Encouraged by their nearly immediate acceptance and success, WAL-BOARD TOOLS began manufacturing products in the 1950's. Drywall – invented in 1916 by USG Corp. – became the most common method of finishing interior walls in the United States by the mid-1950's and Wallboard's offering grew rapidly to support the booming industry.
This transaction marks the largest acquisition in MARSHALLTOWN's history and continues our tradition of strategic market expansion. By acquiring WAL-BOARD TOOLS, MARSHALLTOWN solidifies its position as the indisputable world-leader in drywall tools. MARSHALLTOWN plans to leverage the incredible brand built by the Masterson family and provide customers – new as well as existing – an even broader catalog of industry-leading drywall tools.
The indisputable world-leader in drywall tools, WAL-BOARD TOOLS offers a comprehensive range of products that caters to both seasoned drywall professionals and enthusiastic DIYers alike. WAL-BOARD provides all the tools needed for efficient and precise drywall work. Whether it's the precision of Taping Knives, the finesse of Sanders, the reliability of Trowels, or the versatility of the Texture Pro 200 Hopper Gun, every aspect of the process is covered. Additionally, the brand offers convenient Drywall Patches providing the perfect solution for those smaller repairs. WAL-BOARD TOOLS – quality and innovation.