Team MARSHALLTOWN Rewards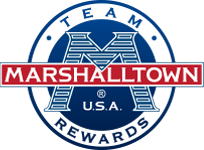 Rewards with You in Mind
Team MARSHALLTOWN Rewards transforms your loyalty to MARSHALLTOWN tools into real rewards. With each purchase, you earn points that can be used to purchase tools and equipment on MARSHALLTOWN.com and free shipping on orders over $149 anywhere in the contiguous United States! You'll also receive special offers and have early access to new, innovative products.
Featured Benefits

Earn 5x Points per Dollar Spent
Earn 5 points per dollar spent anytime you place an order on MARSHALLTOWN.com

Free Shipping
Get free standard shipping anywhere in the contiguous United States when you spend $149 or more

Exclusive Access
Learn about new tools and equipment in our monthly newsletter and receive special offers

Priority Support Response Time
Get access to a dedicated Team MARSHALLTOWN Rewards representative (833-496-1029)

Free Welcome Gift
Receive a free welcome gift when you place an order within 30 days of becoming a Team MARSHALLTOWN Rewards member — gift only available in the United States
Read more on the Team MARSHALLTOWN Rewards Terms and Conditions.